The Hanna-Barbera name has almost become synonymous with the idea of Saturday morning cartoons for more than half a century. They have brought so many wonderful and colorful characters to life and easily their most popular of them is their lovable talking dog and his gang of meddling kids. Scooby Doo is back in brand new animated film for this new generation of nostalgic revivals. This time he's not alone, as a ton of classic cartoon icons are also thrown into the mix of Warner Animation Group's Scoob!. For what it is, Scoob! is a solid and enjoyable attempt at bringing back the Mystery Inc. Gang, despite taking some deviations of its original source material.
Unique Fan Service Makes Up for Lack of Mystery
Scoob!
brings back the whole Mystery Inc. gang of Shaggy, Fred, Daphne, Velma and of course, Scooby Doo. However, Shaggy and Scooby actually get separated from the gang as they end up teaming up with the legendary Blue Falcon and his companion Dyno-Mutt: The Dog Wonder. Their mission is to take down the evil Dick Dastardly, of Wacky Races fame, and his plan to take over the world, through various hi-jinxes and gags that these characters have been made famous for. As an adaptation of the Scooby-Doo mythos, some fans might be disappointed that the whole mystery aspect rather downplayed in the film's story. It starts out with an excellent set-up giving origins to how these characters met with a nice little tribute to the original series from 1969. Though once that opening ends, it starts to do its own thing that tends to be fixated on building a universe for Hanna-Barbera characters.
With the characters being separated, we don't get that same comradery that we're used to in most Scooby Doo adaptations. While that does sound rather underwhelming for longtime Scooby Doo fans, one thing to consider is that Scooby Doo is a franchise that is the definition of formulaic. 90% of all Scooby Doo related media is almost always "the guy in the mask" formula with typical gags and set pieces to be expected. Of course there is a charm to a formula like this and sometimes the execution can make it refreshing, however this formula being done so much can be a detriment. Them not focusing on the mystery aspect isn't seen so bad when you considered how much they've relied on this repetitive mystery formula, so it's more so how this new take is executed. For the most part, this is handled with serviceable effort with it being a showcase of a Hanna-Barbera universe with still a lot humor in the mix. There are definitely jokes that miss the mark and feel as they're striving to be very trendy to be cool for the kids, but it still manages to be enjoyable seeing some solid visual gags and even some decent action set pieces. It can seem a bit off putting at first to have a Scooby Doo story not as fixated on mysteries and crossover with different characters. Yet, considering this is the same franchise that crossed over with Batman and John Cena, Scooby's new adventure is not too far off from what can be expected from the series.
A Scooby Adventure With Some Neat
Re-Introductions
As this being a reintroduction of some very iconic characters, one can only hope that Scooby and the gang still feel like their normal selves that we've come to know and love over the past 50 years. In the case of this film, they serve as fairly faithful renditions of the original mystery gang. We still get decent moments with these characters, though outside of Scooby Doo and Shaggy, we don't see much of Velma, Daphne and Fred as one would expect from a Scooby movie. But when we do see them, they don't seem too out of character with Velma still being the brains, Daphne the fashionista, and Fred's leadership still being intact. The film's focus is on the friendship of Scooby and Shaggy and their characterizations are fairly faithful. The downside is that the voice acting, while not bad, doesn't feel as up to par as other series. Will Forte's rendition of Shaggy, while serviceable and decent, still sounds more like an impression and the film also has an odd direction of having Frank Welker's Scooby Doo saying more full on sentences than we're used to from him. Despite that though, the characters are written fine and the voice actors deliver the dialogue well. One of the biggest drawbacks on the script end is that the character relationships are bogged by some clichéd conflicts and misunderstandings that have been done in a ton of kids movies before. It is meant to add tension, but here it feels rather hollow and is just there to stall the plot. Still, the friendship between Shaggy and Scoob still feels believable with a nice amount of fun moments with the characters, especially with their meeting in the beginning of the film.
One aspect that helps makes the film an entertaining ride are the new renditions of longtime Hanna-Barbara characters that haven't been around for decades. Characters like the Blue Falcon and Dyno-Mutt serve as great new renditions of lesser known characters, being the type of over the top superhero we would expect from a world like this. Yet the highlight regarding Hanna-Barbera characters is easily Dick Dastardly. He is every bit of a mustache twirling villain like the original in a way that's completely appropriate in this universe. He provides some of the film's funniest jokes and most memorable action set pieces. Considering he is a cartoonish villain, he works very well against all the other cartoony characters the film has to offer. If there is a sequel to, hopefully they'll be able to have more unique lesser known characters in the limelight again. Though for now, Scoob serves as a decent set up to what may come in the future.
Fitting Animation Style Done Better in Other Films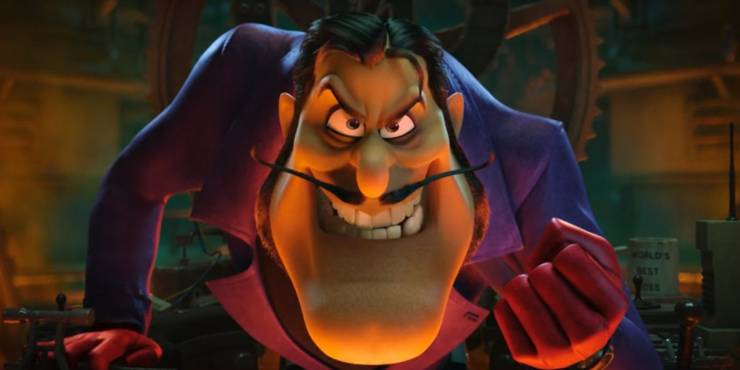 Seeing this is the first CGI adaptation of Scoob and the gang, fans can be rest assured that the animation in this film does serve as one of the film's highlights. It goes the typical route of mixing 2D designs and overtly exaggerated characters with detailed computer animation. The characters look fantastic with so many of them still as cartoonish as we expect them to be, and with today's modern animation techniques, they're able to have more life in them now than how they were in the original series. The movement and variety is especially apparent during the action sequences where they manage to do a lot with the camera movements and effects. The downside though is that there are some moments where the animation can be a bit lacking. Some of the human designs for the extras and even some of the backgrounds can look bland in the less expressive parts of the movie. Despite that, it manages to be a stylistically good-looking animated film with both good character and background animation, giving the film to cartoonish and fun personality it strives to be.
Far From Fantastic But Serves as Fine Fun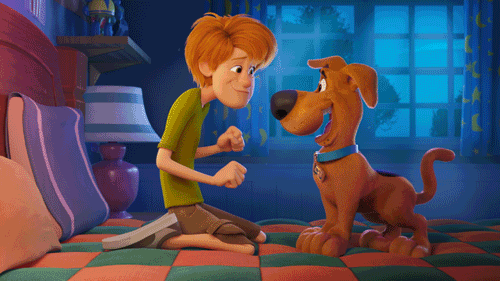 Scoob!
is not a flawless revival of an iconic cartoon series. Its lack of focus on the series' most well-known aspects and its clichés in terms of plot do hold it back from being something truly outstanding, but it as a nice little adventure featuring some great characters including some lesser known ones, Scoob! still manages to be a very cute film. As a film to introduce kids to Scooby Doo, it manages to be a serviceable and pleasant adventure with Scooby Doo and friends.